In case the Apple Watch has lost connectivity to the phone it seems to send an advertisement frame, which is erroneously interpreted by your router as iBeacon advertisement.
As you can see from the photo attached, the advertisement frame in question is the one sent by the MAC starting with 75:B5. The sniffer app does not identify this as an iBeacon, but your router does. It somehow mixes a couple of things then: It uses the MAC, but the message body of another iBeacon.
So this is the raw_beacons_data element of the Apple Watch transmission, which is erroneously reported as iBeacon (as an RadBeacon). In fact I have 5 other RadBeacons around, one of them has major 4 and minor 0, which is reported herein:
"773BA203025C2F234454CF6D4A0FADF2F4911BA9FFA600040000BAFFB8"
You see that the MAC doesn't match the photo. This is Apple's MAC address spoofing: They always use another MAC with every new round for privacy reasons.
But the pattern is repeatable: Whenever I switch BT off on my iPhone, the watch starts to cry for the phone. These packages are then mixed with any other advertisement frame in your reports, so that it appears as an RadBeacon in your reports.
Right now I made another test:
"79DA4359EF942F234454CF6D4A0FADF2F4911BA9FFA600040000BAFFBD"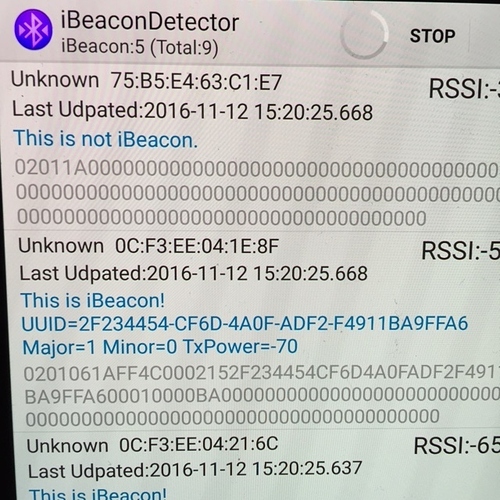 Regards